在女兒的喪禮上,爸爸含淚地說:
「她是我心中的所有,我也曾努力希望成為她心中的一部份。」
我聽後哭了良久,說得太好了,這正是我的心裡話!或許也是很多父母的心裡話。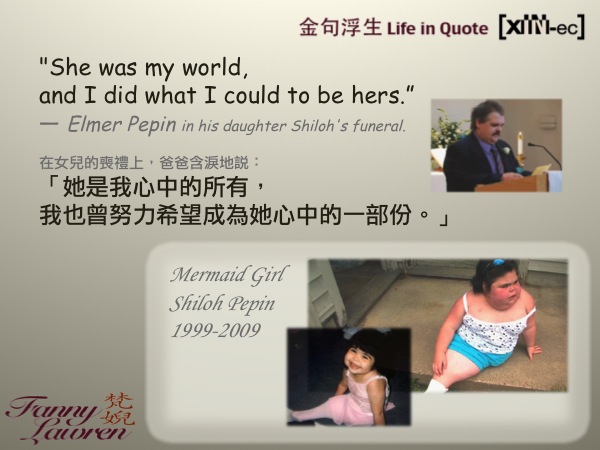 後來想到這話也可以用作情侶之間「愛的宣言」:
.

「你是我心中的所有,我會盡我所能,希望能夠成為你心中的一部份。」
I was watching a documentary about the Mermaid Girl Shiloh Pepin who was born with fused legs. It strikes me so hard when her father said in her funeral,
"She was my world, and I did what I could to be hers."

Very well said. It is so true for me, and perhaps for most parents too.
Later, I realized this is a good love quote:
"You are my world, and I will do anything to be yours."
(註:英中直譯在此完成行不通。)